Servier Healthcare Hours with Startups & Investors | 118th
Peter发表于 2018-11-19 15:37:57
How will China's E-health improve patients' journey?

Award winning pharmaceutical company Servier through its 's e-health department known as 'Wehealth by Servier' on November15 hosted a Smart WeHealth Summit in Beijing on the theme "How to Connect Dots between Startups and Investors ".
For a successful event , the French owned pharmaceutical group partnered withChineseCEO; a company with years of experience in connecting practical innovators in business transformation.
The event attracted more than 100 guests among which were medical experts and intelligent medical start-ups. One of the heights of the event was the disccus on the trend of medical development and investment cooperation. There were presentations and round table discussions followed with questions and answer session.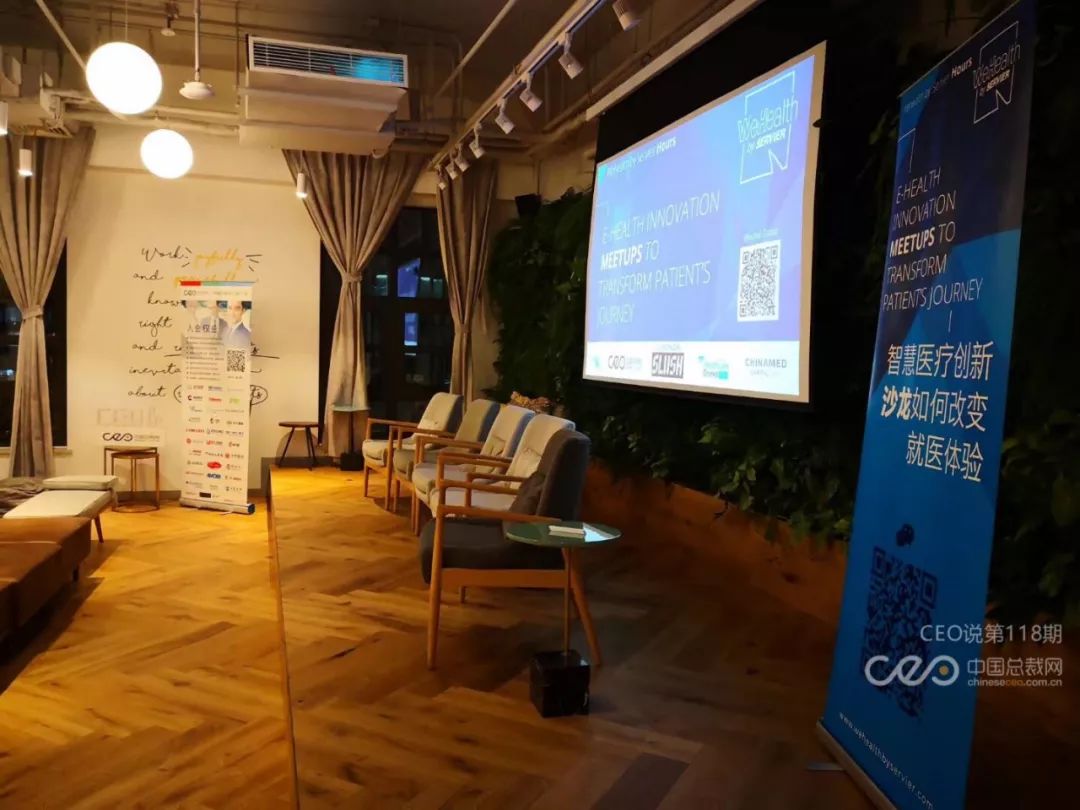 Host
WeHealth by Servier works in cooperation with startup partners to create innovative medical services and devices to improve patient care in the specialties in which Servier is active. WeHealth by Servier looks forward to providing patients with innovative eHealth solutions for better care.
Organizer
ChineseCEO is committed to connecting entrepreneurial innovators in business transformation, taking space as avehicle, relying on online and offline social networks. It focuses on industries such as Industry 4.0, smart cities, new retail, healthcare, andother key industries to accelerate services through the opening ofcity-operated industrial parks. Build an international innovation ecosystem that targets large companies, investors, and local governments.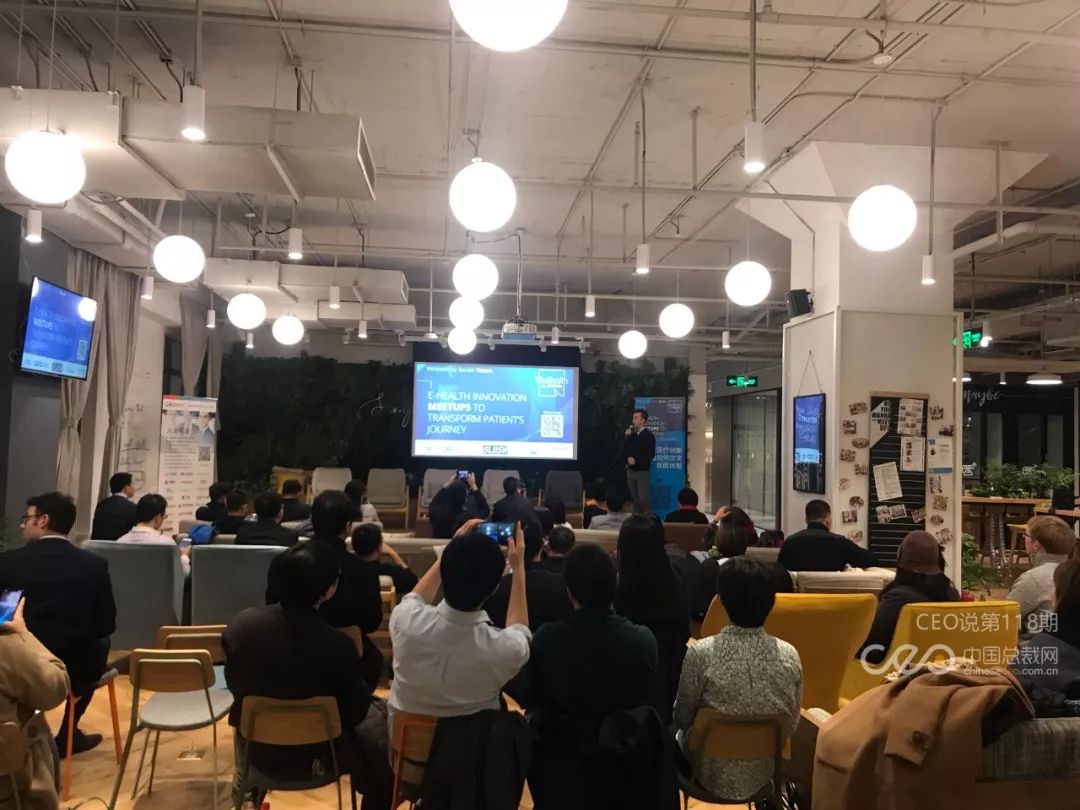 Keynote Speech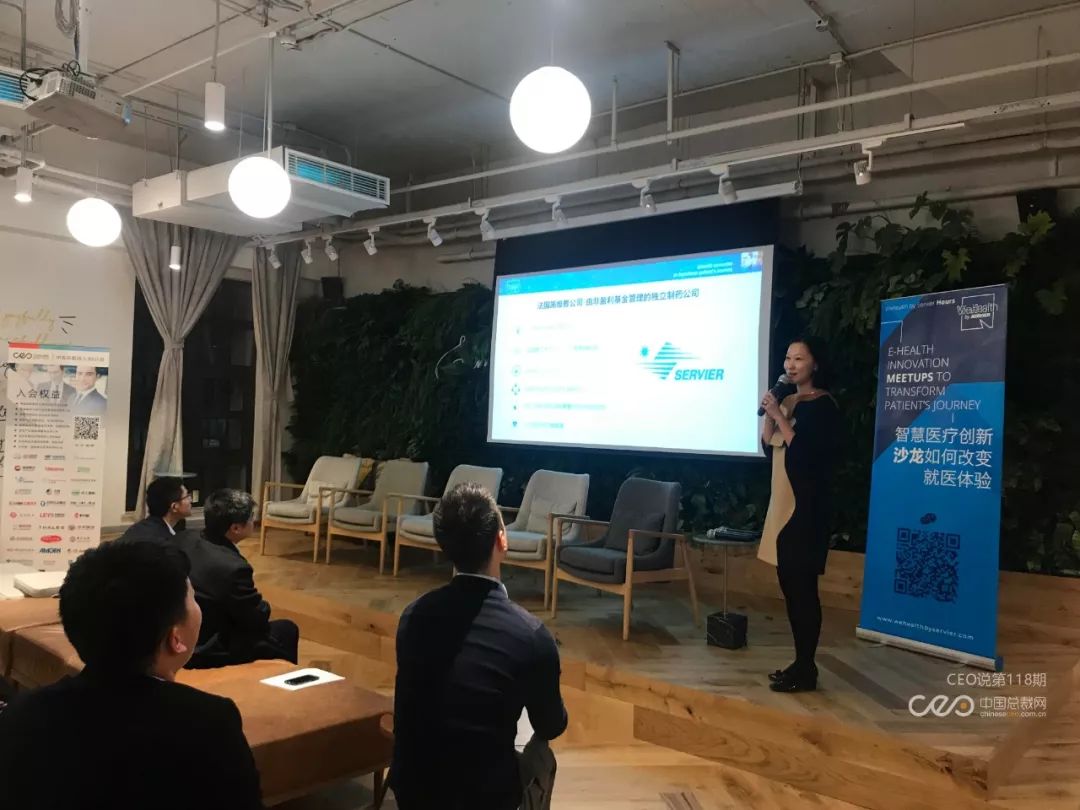 ▲Cynthia Wang, BD Director at Servier China
The event started with a presentation by Cynthia Wang from Servier on the project "WeHealth By Servier". Cynthia said Servier has been in China for 40 years that it is the first foreign-funded pharmaceutical enterprises. According to her, their activities are mainly concentrated in cardiovascular,diabetes, tumor and other fields, there is also the integration of production,marketing and research medicine business model.
Cynthia also said WeHealth is Servier's electronic medicine division, which focuses on intelligent medicine, intelligent ECG, cardiovascular AI and other areas. "By adhering to the 'No Holding, No Mergers andAcquisitions' philosophy", she noted "we hope to cooperate with start-ups in the medical field to create innovative medical Servier and equipment to improve patient care in Servier's active specialties."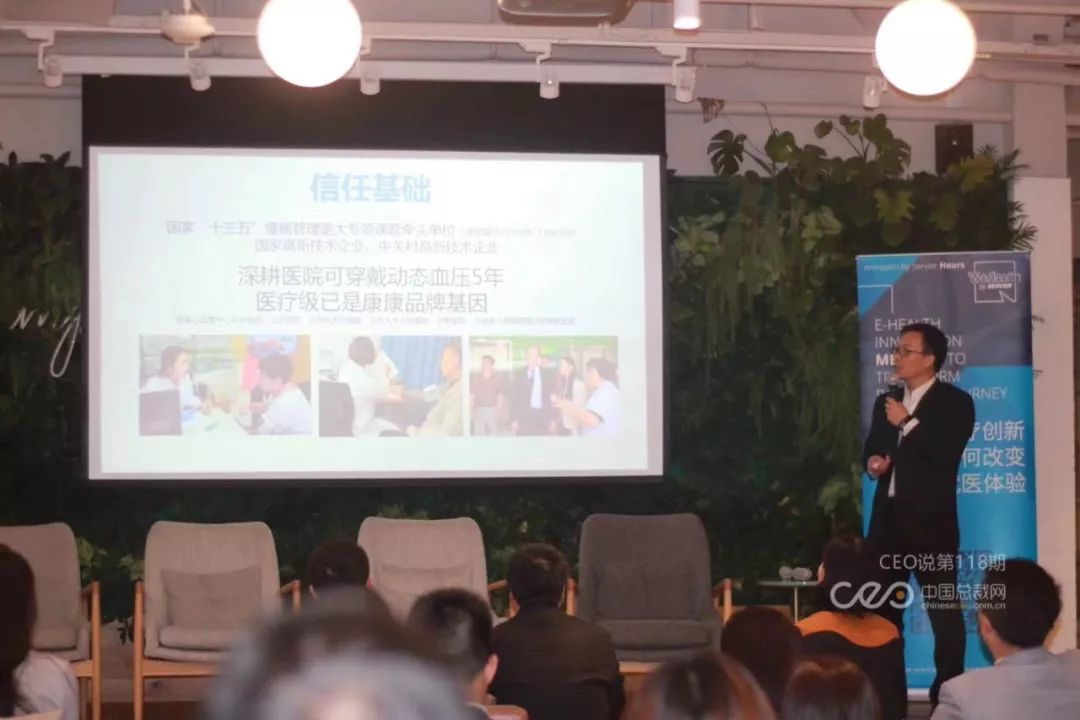 ▲Mingfa Zeng, Founder of Kang
The second presenter, Mingfa Zeng from Kang made a full-scale keynote speech on the company's global first CFDA high blood pressure watch case, from team to product, from management to concept. Mingfa said the company has a professional hardware team that specializes in ambulatory blood pressure and has built adynamic blood pressure data center with more than 100,000 user data. In view ofthe company's future, Mingfa Zeng said to build a high blood pressure tree,focus on high blood pressure medical products, based on the dynamic blood pressure of medicine, on the one hand, and B-terminal cooperation, to develop hypertension management services; On the other hand through the Kang Watch service on the customers.
Mingfa said that the management of high blood pressure first comes from the authoritative expert on the platform; provides chronic disease diagnosis and treatment services.According to him, "Then there were more than 6,000 specialists; we are also pushing for Internet celebrity doctors, who have millions of followers, to forma medical platform by providing services in three ways." When it comes to the Kang Watch, Mingfa praises his own products, "Not only does the watch diagnose accurate data, but it's also easy to carry around. It's also a warm product that sends data to doctors, platforms and loved ones to detect problems in a timely manner." He said.
In his conclusion, Mingfa stated that his dream is to win the war against blood pressure in all home.
Panel Discussion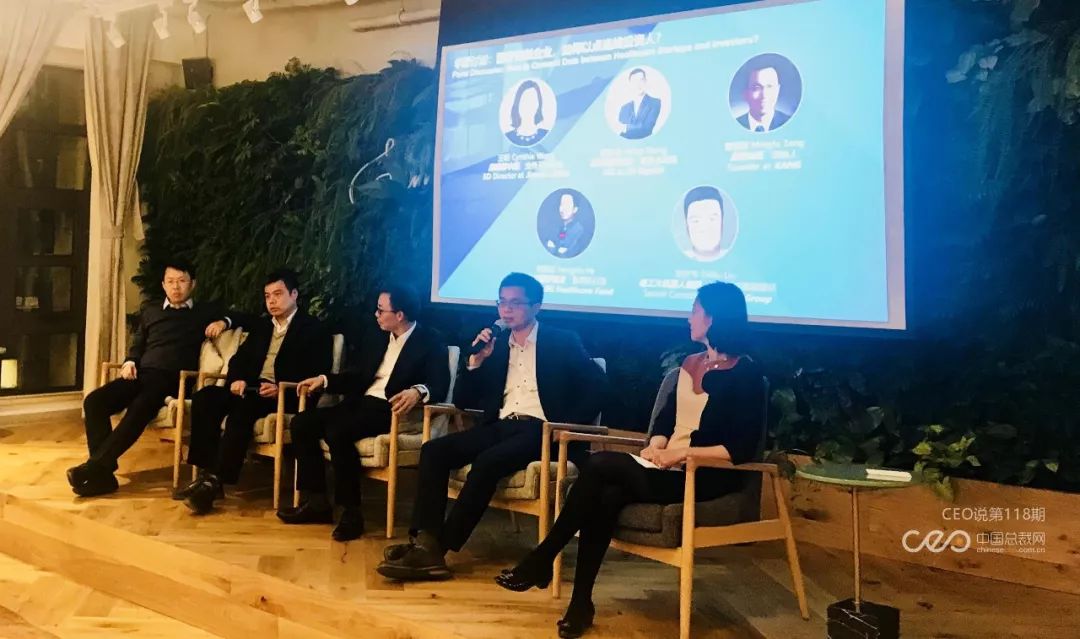 ▲Panel Discussion,from left to right (Zhifeng He, CEO at BG Healthcare Fund; Yishu Liu, Senior Consultant on AI Medicine at HRG; Mingfa Zeng, CEO at KANG; Victor Xiong, MD at IN Medical Fund; Cynthia Wang, BD Director at Servier China)
Q1:What will happen to the healthcare industry in the next 2-3 years?
Victor Xiong: There is a lot of uncertainty about the health care industry in the future. Many people will pour into the industry, including many cities. Governments have also made health care an important direction of development, with the establishment of industrial funds. From the point of view of medical industry chain, it is from information to the Internet, to the process of artificial intelligence change,technology, scene changes will bring a lot of dividends, but intelligent medical care must be combined with pharmaceutical products and services. Again,from the investment point of view, the medical industry cycle is long, the uncertainty is very big, so the investment depends on whether to meet the consumption upgrade, there are no technical barriers, there is no guarantee like access to social security qualifications.In the future, the medical industry will also be localized, and the development of biotechnology willbring about more changes.
Mingfa Zeng: After I entered the medical field from the Internet, I discovered that themedical industry fission speed is very slow, one need to be patient, and the traditional internet is very different. I found out that the traditional blood pressure monitoring equipment has not changed for many years. After spending money to do a good job of testing equipment, I found that after the test can also be combined with the hospital to do digital processing, after the completion of the combination of medical services, product flow is complex and difficult.
On the one hand, we want the business partners to do high value-added medical services. For the consumers end to push cloud dynamic sphygmomanometer, from tens of thousands to hundreds of it,the result is that users like capital in the end also like it. So as long as a product is good, capital will always find you.
Yishu Liu: The industry has a big market and a lot of risk. First of all, we should look at the positioning of enterprise development, find the development point. Hit robotics comes from schools; big data, artificial intelligence can develop; research and development can be successful. The market will accept and it's worth the risks. At present, we are also searching for partners, hoping that the higher the maturity of the product, the smaller failure, in the hit technical support, through the technical extension, relying on the robot platform to the surgical robot, rehabilitation robot direction development. Whether in the pharmaceutical or technical field, the future direction of R & D expansion needs to play a special role in their respective fields.
He Zhifeng: Since 2008,when I was at the first medical industry fund, I realized that many times investment projects can make money or succeed. It's a kind of luck, not a personal effort, so it is more important to reflect on failure. Healthcare investment used to be relatively simple. One is to look at business growth, the other is to look at valuation growth, the real ability is to see earning (business) growth, PE (valuation) growth is the trend. Now investors invest inmedical programs, but also pay more attention to competitiveness, see earning growth, business growth. In addition, some medical innovation projects do nothave income, but there are high valuations, especially in the last 4 years orso, it is clear that China's capital market is encouraging investment innovation. Now the investment is also returning to the business itself, andthen in-depth is to look at people, look at the team. The summary is that medical investment has changed a lot, investment innovation, focuses on theteam behind the medical.
Q2:Why do medical startups point to connect investors?
Victor Xiong: Innovation is important, but it's important for entrepreneurs to pay attention to rhythm, focus on cash flow, and balance in innovation plus business models. Future investors are not simple financial investments, but defined as industrial investment, we hope to become entrepreneurs behind the entrepreneurs. Entrepreneurs and investors need to have a good relationship, including investment, resources, philosophy, to become a venture partner.
Zhifeng He: I am also a startup founder, thinking that investors are also entrepreneurs. Innovation is good, but the probability of failure is great, the more glossy the more cautious, so cash flow is very important, in the industry downturn to find money.
Mingfa Zeng: Entrepreneurs to have a common heart, do a good job of products is fundamental, but must find a profit space things, service has value, products have space. First of all, the medical industry is worth deep plugging, deep down to do a good job of service, and second, the medical industry is also slow, with the usual heart to do.
Yishu Liu: Investment not only depends on money, but also depends on whether it can bring value-added services, otherwise it is easy to cause ideas, management conflicts. I think the first is to judge whether investors have an understanding in the field, if they do not understand easy ways to avoid communication barriers, and the second to think about big investment institutions is really good? Many large companies have many projects on their hands that are difficult to take into account and do little to help start-ups, and the third is to see industrial investors who are able to fit into thecombination.
Zhifeng He: Add two points, the first is that entrepreneurs have enough respect for money, can give money to gold owners, the second is how much valuation is not important, can get money to live the most important.
Q3:What kind of criteria do investors look at projects to measure them?
Victor Xiong:It is difficult to start a business in the medical field, with high barriers and, on the whole, much older and less small fresh meat. In terms of measurement, the first choice of people, the entrepreneur has requirements, thesecond looks at endorsement, whether there are academicians, experts and other resources endorsement, the third look at the channel, especially where the hospital cooperation, there are sales channels, the next look at the business model, whether to make money, and theother look at medical data.
Mingfa Zeng: As an entrepreneur, I think it is good to take money, but because of the conflict of values also screwed up a lot, so first of all the values to match, and then find money, the cost will always have, and ultimately look at the product. To start a business is to live slowly, to do it with a normal heart.
Zhifeng He: Entrepreneurs have a lot of options, and it's good to choose values to match, but most startups find it hard to think harder, and it's better to imagine the difficulties more serious. First of all,entrepreneurs and investors have fewer routines for each other, more sincerity.As an investor, respect for entrepreneurs can reduce the cost of communication between the two sides. Entrepreneurs first do a good job, and then work with the listed companies to be better. To give an example, Jiuan Medical is a listed company, the owner of the Liu Yi is very strong, but he would rather go to Leijun investment tens of millions of investment, and into the millet system,become part of the millet ecology.
Q4:What do you think of the early fiery medical investment projects?
Victor Xiong: First look at the background, choose the more influential entrepreneurs. The second is to see if the technical route is mature, from basic research,testing, clinical and other processes that are very long, the introduction of technology, to see the certainty and maturity.
Zhifeng He: Investment risk and the number of periods does not matter. Before now, the United States had acompany with a market capitalisation of billions of dollars, but the third phase of clinical testing failed, resulting in the poor performance and themarket value fell to hundreds of million dollars . How do we vote? The first is to see if there is a license plate, the second is to see if there is a product line, because the probability of a single project failure is very large, new drug investment is very difficult, failure is very normal.
Successful-spots
★ Servier and ChineseCEO reach innovative medical project investment links in the field of medical health;
★ ChineseCEO has worked with Dr. Kangdet in Germany to cooperate in the field of German medical examination.
★ Kang and several investment institutions including Yingdii capital, Qunying capital and other cooperation reached a joint connection.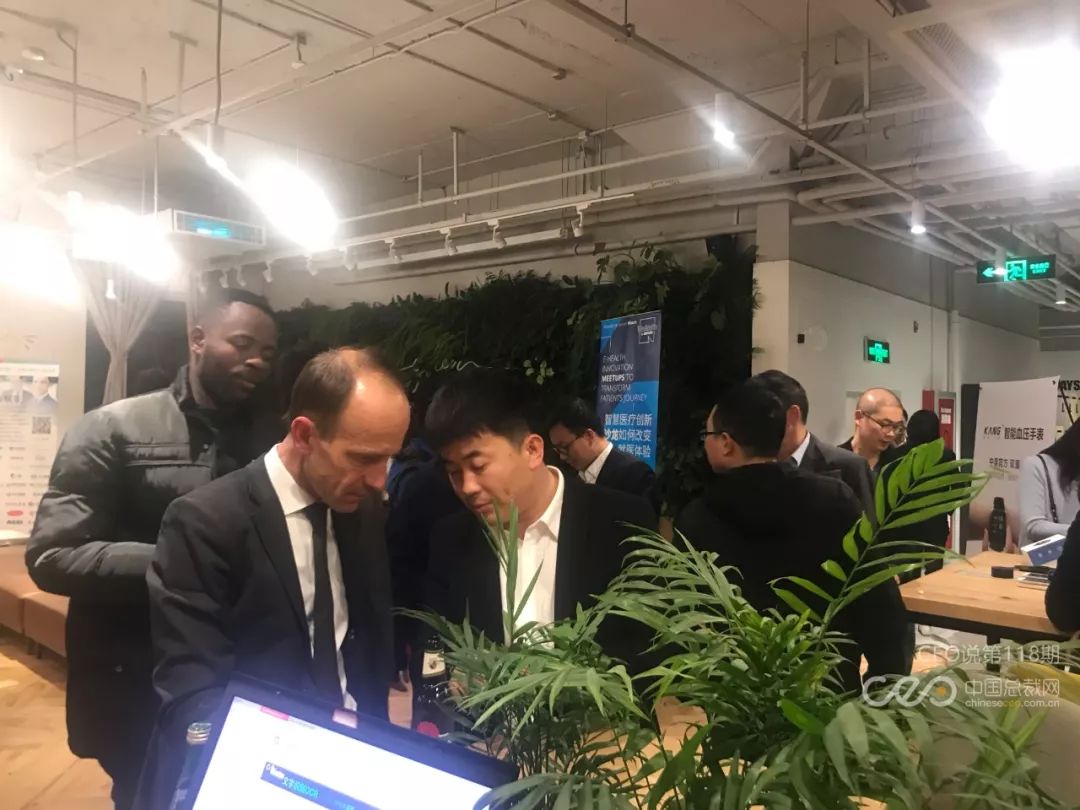 Moments
If you are not invited , it does not matter. Any entrepreneur who has participated in our 118th event will have chance to re-recommend another member.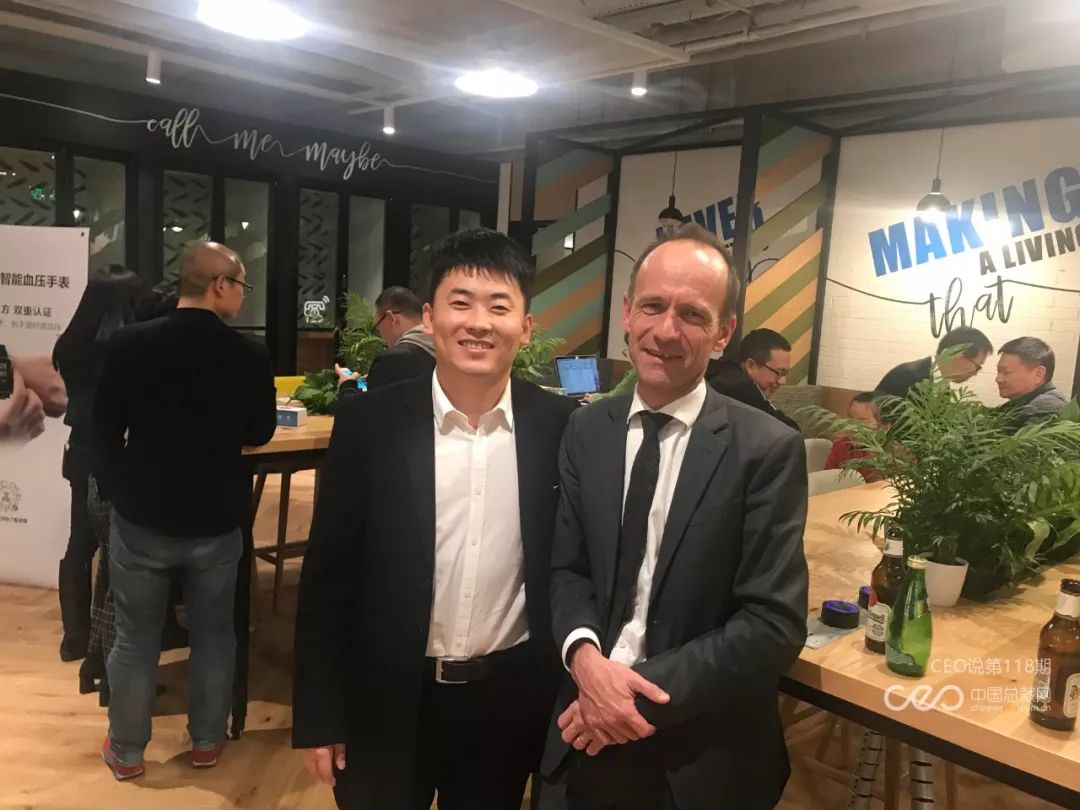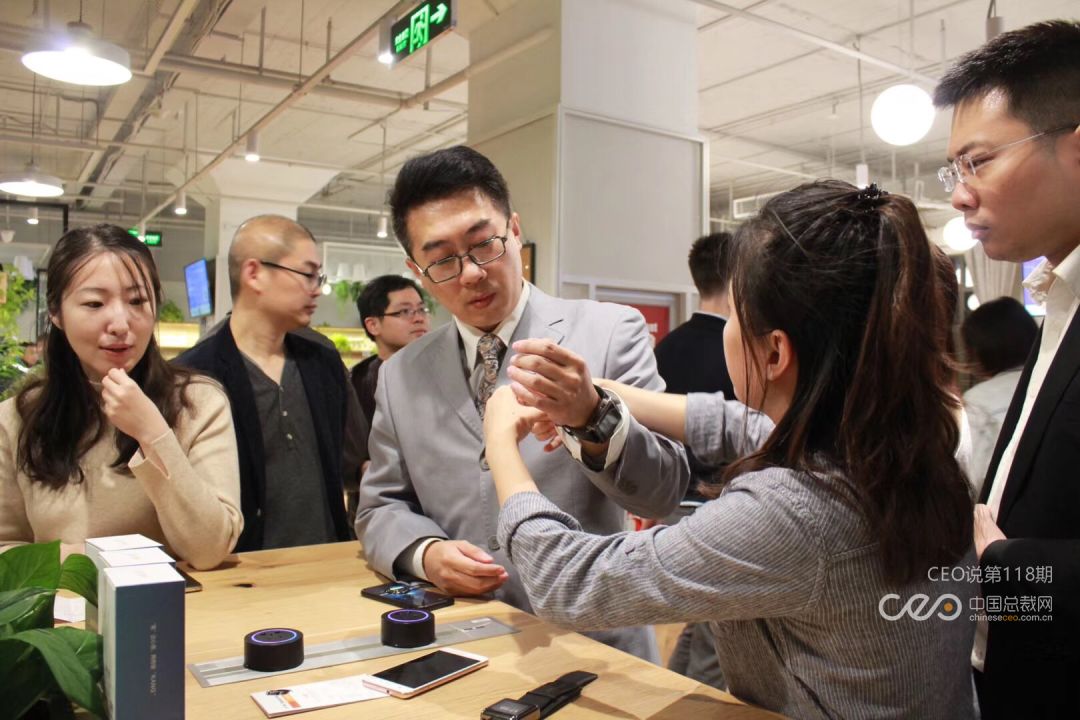 ———— / END / ————
Editor:Momo
Pictures from ChineseCEO